January 24, 20202
Second World March for Peace and Nonviolence;
Life is always full of experiences of various events, relations, behavior and peoples but every part of experience never become an important or memorable. From the notebook of memories, the day which has been important and memorable to me is today; January 24th, 2020. Today, I feel like I am raised up, grown up and standing with the peace lovers.
I woke up early at Encounter Hotel Thamel, Galkopakha and wished to welcome my first ever sun rise in Katmandu, Nepal and after that we friends had to head towards Kapan with the team of 2nd World March for Peace and Nonviolence.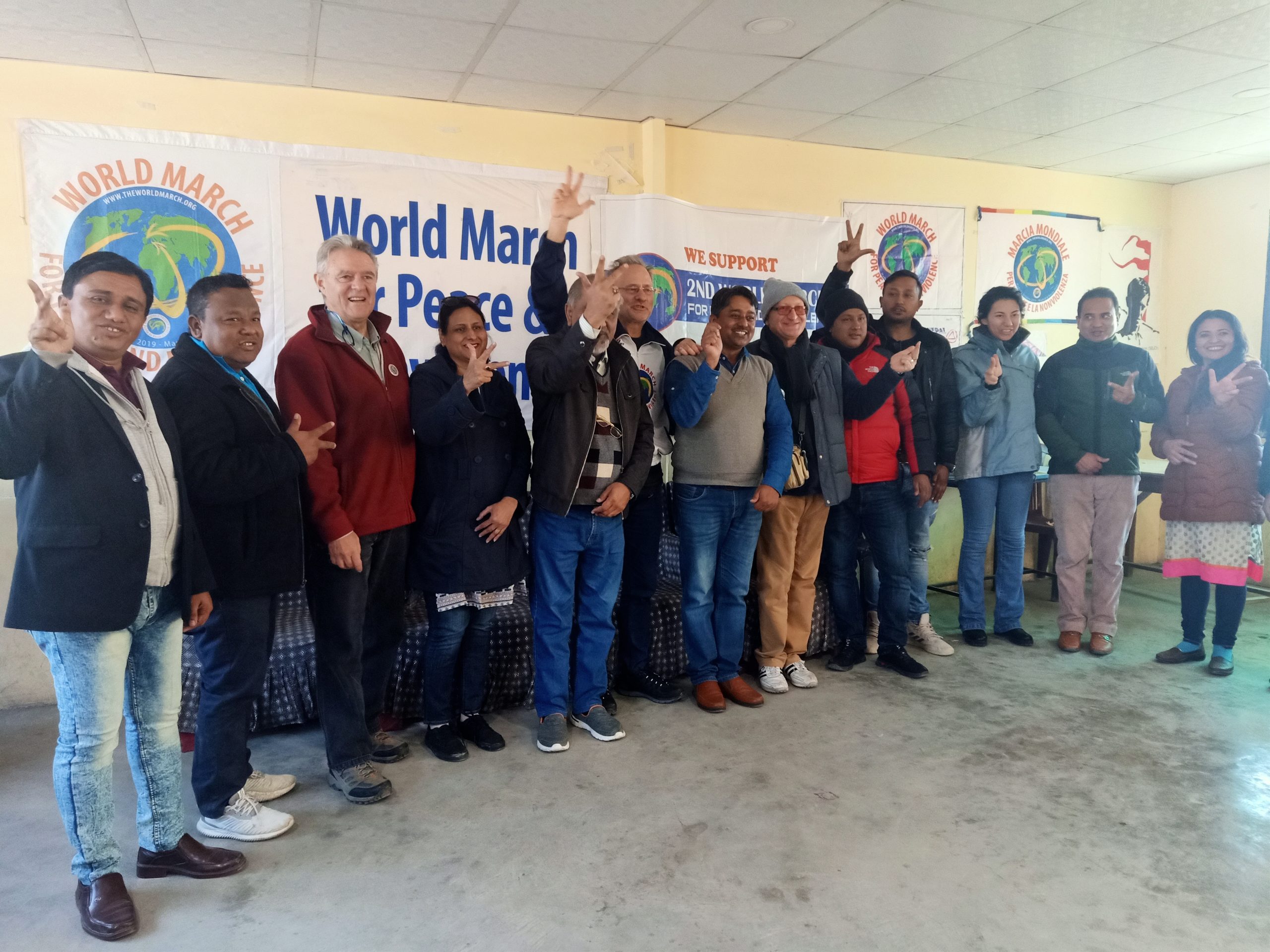 After having breakfast, we got a taxi and reached to Joseph High School @ Budhanilkantha-12, Kathmandu, Nepal. Ms. Tulsi Sigdel (Country Coordinator HM Nepal), Students of Joseph High School and HM Kapan team welcomed us. We joined the Humanist Movement base team member including Mr. Rafael De La Rubia (International Coordinator HM), Mr. Marco Inocessis, Ms. Francesca De Vito, Mr. Sandro Ciani and HM Nepal team Ms. Tulsi Sigdel, Mr. Indra KC, Mr. Ram Sunder Kunwor, Mr. Mukunda and Students and teachers of Joseph High School Nepal.
HM Kapan Event @ Joseph High School Nepal
The hall of Joseph high school was well decorated with different colorful banners of 2nd World March for Peace and Non-violence including the banner from Pakistan depicting "We Support 2nd World March".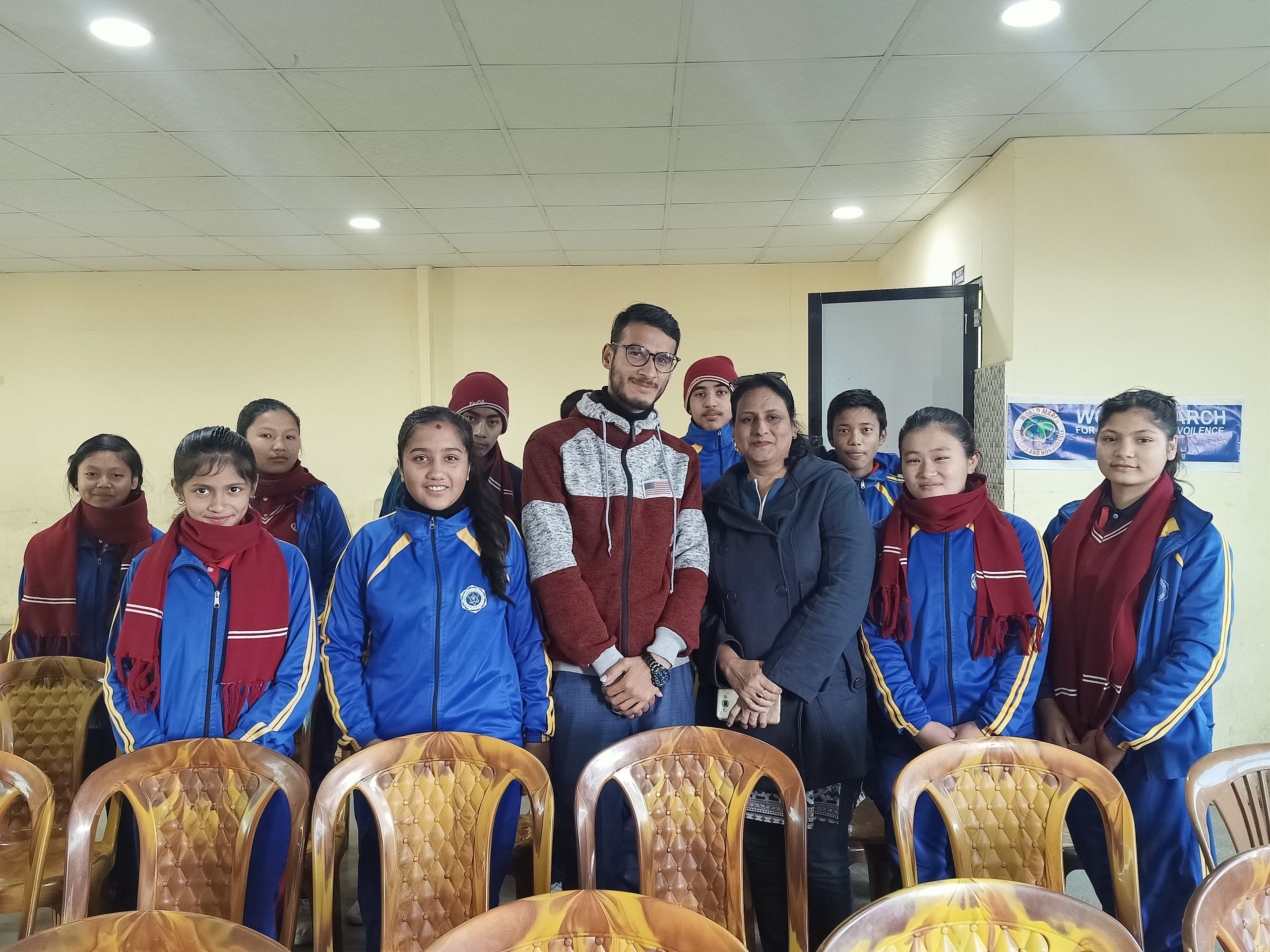 The members of the Second World March base team from Spain, Italy and Pakistan were attending the session. Ms. Tulsi Sigdel (Country Coordinator HM Nepal) welcomed the base team and introduced the participants of 2nd World March. M. Rafael (International Coordinator HM) described the aims and objectives, route and importance of 2nd World March for peace and nonviolence. He also shared the journey of 1st world march which were held in 2015.
Mr. Marco Inocessis translated the speech of Mr. Rafael into English and Ms. Tulsi described it into Nepali language accordingly.
Interesting Questions of Students:
During the session on peace and nonviolence movement Mr. Rafael told to students that, he will award a Badge of 2nd World March who will ask question. After the completion of his speech a girl asked that what were the key results of 1st World March which inspired you for 2nd World March for peace and nonviolence?  A young boy asked that if you are discouraging the nuclear weapons then what about biological weapons which are also harmful to human being.? Another student asked that How we can decrease violence in Nepal because we are facing it? Mr. Rafael answered to all the questions positively and presented the badges of 2nd WM for peace and nonviolence to students who asked questions.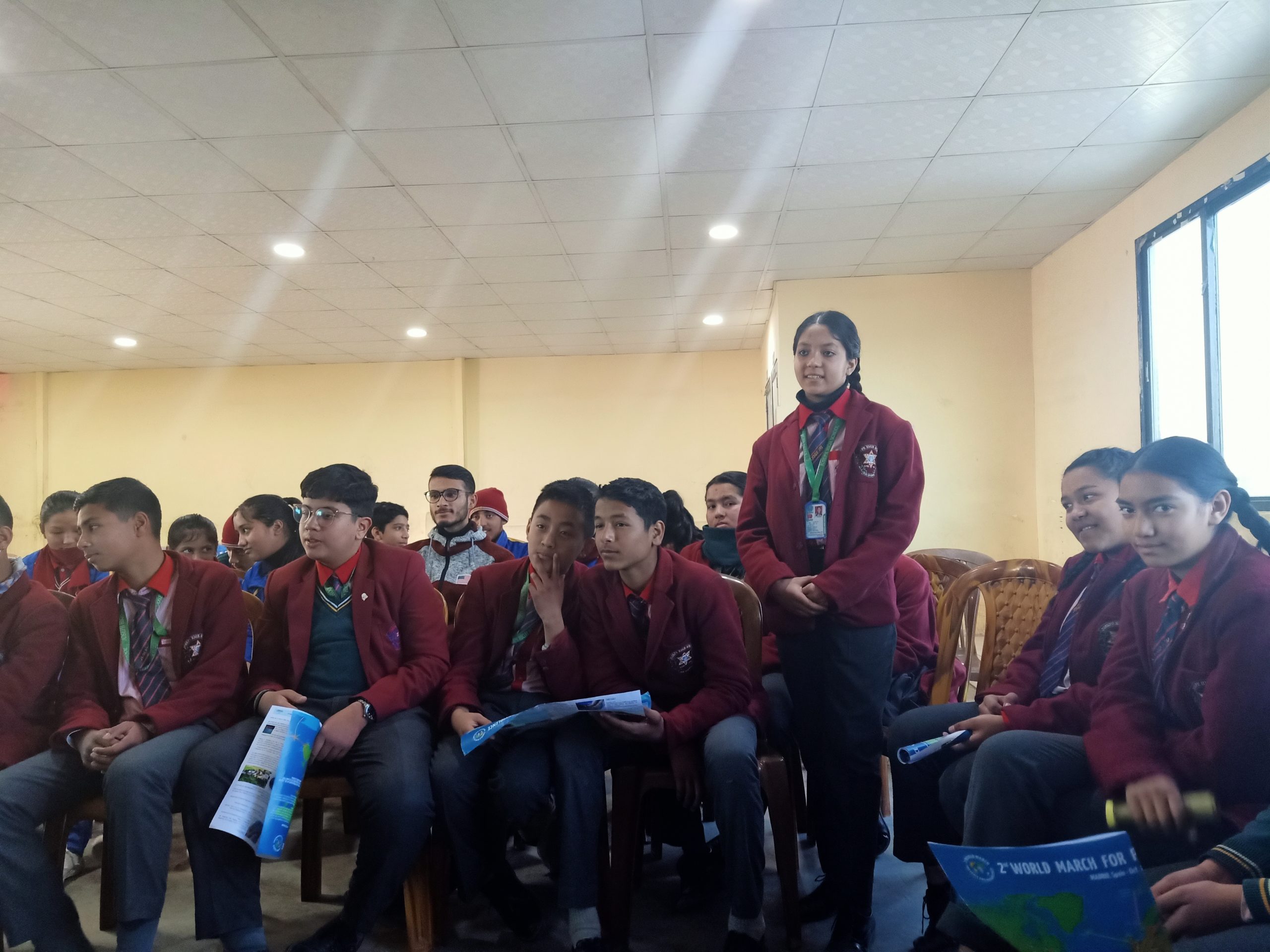 At the end of session, Mr. Marko thanked to all participants and HM Kapan team and they excahnged goodbye note with Shanti, Shakti & Ananda (Peace, Force & Joy).
Lunch @ Kapan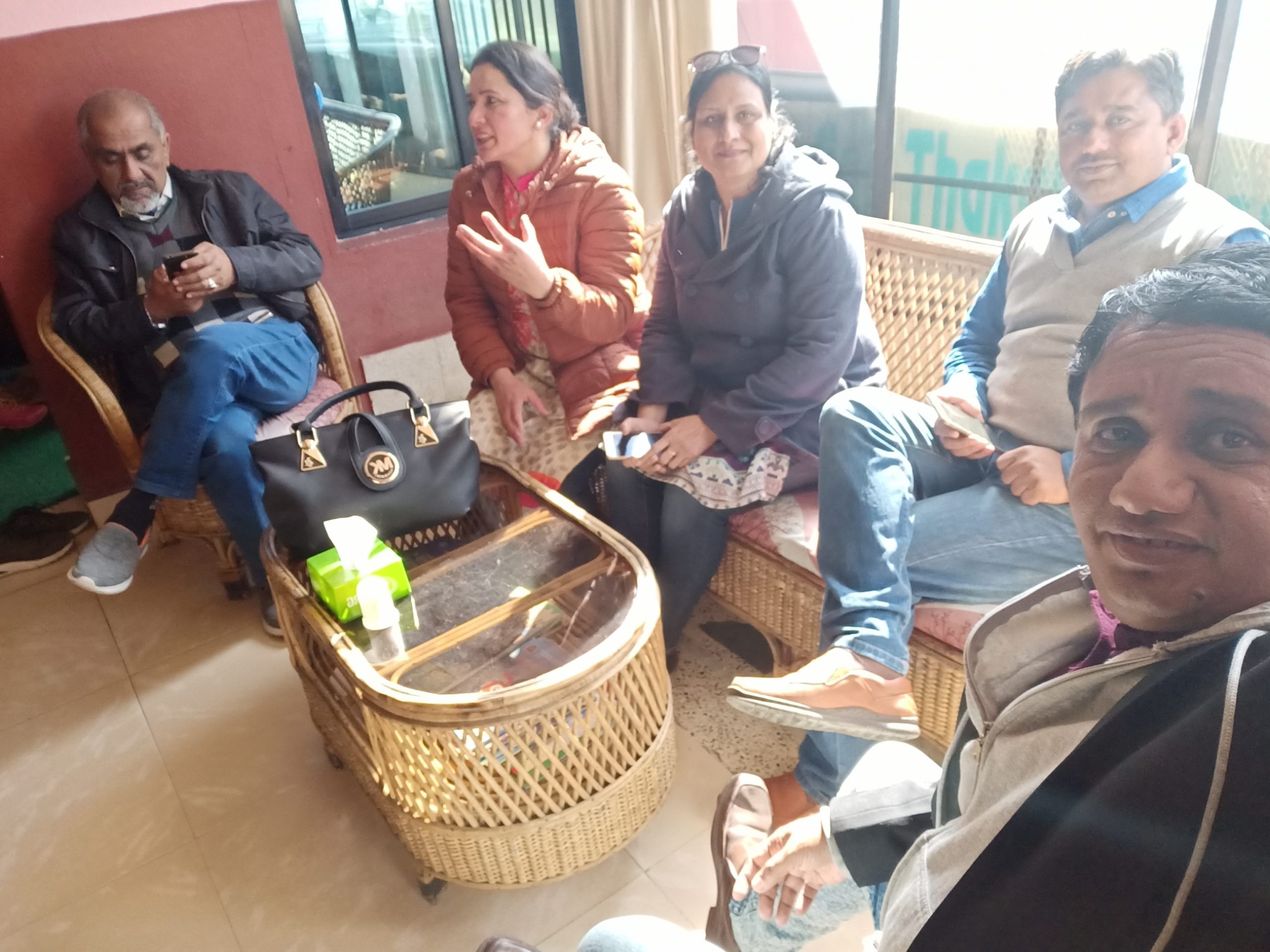 We had traditional lunch (Thali) at a well-organized restaurant, indeed it was delicious lunch which was hosted by Ms. Tulsi and her entire team for whole base team. After having lunch, the team was been split into two groups.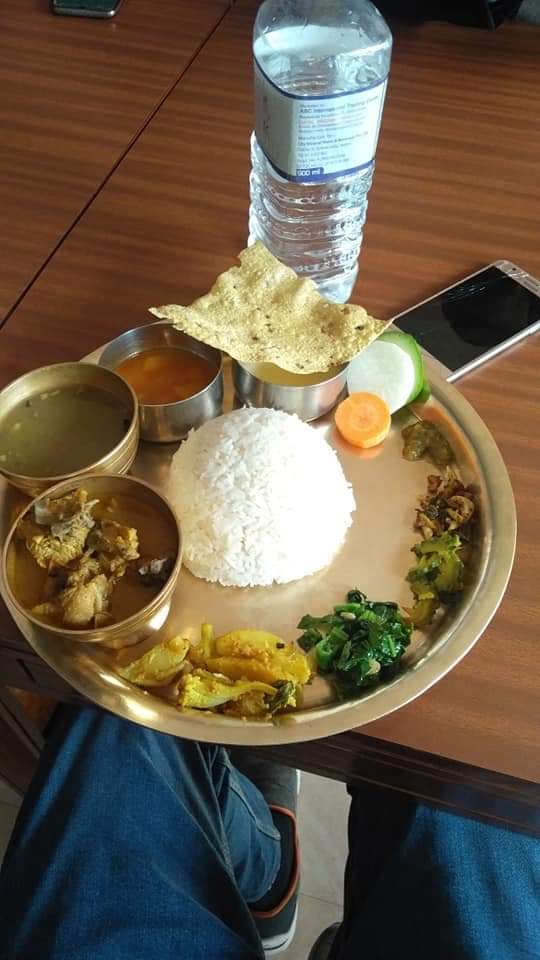 Ms. Tulsi went with Mr. Rafael and Mr. Mukunda guided us (Teerath, Gulab, Krishan, Hina, Utsha, Mukunda, Francesca & Sandro) to visit the "World Heritage Site Budha Stupa".
Read more Base Team Reached at Nepal…